Vegan food comparisons…. for a long time it is something i have gotten bothered and irritated over.
I remember i wrote a post a long time ago and mentioned i would write a post about these vegan food comparisons but life got in the way and i just never got around to posting it. But this weekend i just felt i needed to write/say something, and posted the images below on my instagram story. (My IG here). And i got so much positive response, so many other people who were irritated over the comparison pictures.
When it comes to nutrition and food you can't just compare foods and say one is good and the other is bad…. because first off – who is eating the food? How much of the food is being eaten? Does the person have allergies or intolerance? What aim/goal does the person have with food? What else are they eating in a day?
Of course you can compare an apple and a McDonalds burger and say that the apple is more nutritionally dense and "better" in terms of health. But say if a person is starved and is in serious need of energy and calories, well then maybe the mcdonalds burger is better because it is more calorie dense.
When you compare foods you can do it within the same food category, example… comparing different beans with each other. Or comparing different nuts or comparing different meats with each other. Example you can say that white meat is "better" than red meat because it has less fat and isn't linked to colon cancer as much as red meat is. But you can't really say one food is better than the other because it also depends on who is eating the food!
I understand that people want to compare vegan food to non vegan food and show the health benefits and all the vitamins and minerals in vegan food, but it doesn't make sense when the amounts compared are so unrealistic.
First off i need to write… this is NOT an anti vegan post, even if it sounds like it. It might sound like i am more "for" the animal products and i amn't. I know you can get all the nutrition you need from a vegan diet and hence why i am writing an ebook about vegan nutrition to help you all with that – or those who need it anyway! And the truth is, it IS easier to get more protein and iron from animal products… that does't mean it is impossible to get those from plant based foods. With enough food and balanced eating you can get all the nutrients you need as long as you don't have an underlying illness or problem with digestion and absorbing nutrients. I just want to make it clear that even if it sounds like i am more positive towards meat and dairy i amn't….. i don't believe it is ethically ok to eta, but from annutrition perspekctive you have to understand that in moderation they aren't bad.
I have seen posts compare 100g spirulina with 100g meat and say that it has more protein and more b12 than meat. Well first off…. nobody eats 100g spirulina and the b12 is not a reliable source. Spirulina is still a great supplement to consume, but don't compare it to meat. (Also note, 1 tsp spirulina is about 5g…. so you would have to eat 20tsp spirulina to reach the 57g protein….)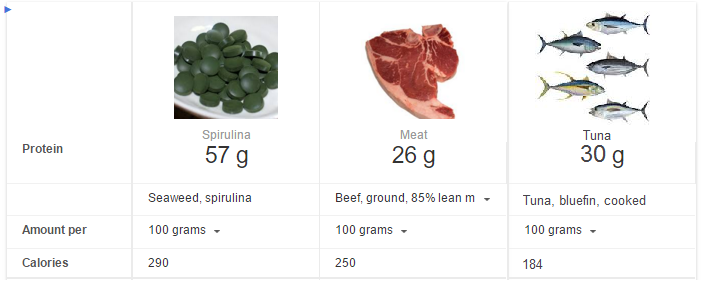 Then there was the comparison between chia seeds and eggs…. And well, nobody eats 100g chia seeds. 1 tbs which is the recommended amount is about 15g. However eating around 2tbs is ok as well, but more than that is not recommended because it is so much fiber and can cause blockage in your digestive system as they actually absorb water while going through your digestive system. Chia seeds are great, they are a vegan source of omega 3 and are a source of protein and fiber! However…. eggs can also be good, and the cholesterol in egg isn't something to worry about as long as you don't suffer from high blood cholesterol. Now don't get me wrong… i am vegan and believe that everyone should limit their animal consumption, but i also don't like false nutrition claims and eggs aren't that unhealthy in moderation. Of course you DON'T need to eat them, it is better to eat completely vegan, but you aren't going to suffer from high cholesterol or die early just because you eat eggs every now and then. Chia seeds are great – eggs aren't great ethically and i would prefer if nobody ate them, but there is no point bashing them from a nutritional perspective.
And then there is the comparison of nuts/seeds vs meat…. which just never makes sense because there is such a calorific difference and the truth is most people don't and wouldn't eat 100g nuts and seeds everyday. They are a great source of nutrition, with lots of vitamins, minerals, protein, fiber and some are even a source of vegan omega 3 and 6 as well as a source of iron and calcium which is great! But also, if you are 100g nuts/seeds it will give you about 500-600kcal which is about 25% of a normal persons daily energy requirement, where as 100g steak (i.e red meat) is about 270kcal (and 100g chicken would be about 230kcal). Of course, looking at nutrition is alot better than calories… because a smoothie filled with nutrients and energy is alot better than calorie free soda… but once again, it is about the individual. Is a person severely overweight and trying to lose weight, well then maybe the diet soda is better than a smoothie to help them lose weight. But back to the main point…. A normal portion of nuts is about 30g and a normal portion of meat is around 100-200g, and the nutrition amounts in those normal portions is very different. Of course, i don't personally want anyone to eat meat, you can get all the iron, protein and vitamins through plant based foods and nuts is one of them. But when you talk nutritional facts you need to be realistic and look at portion sizes. Because sure, you could eat 100g pumpkin seeds and get more protein than 100g steak… but then there is the whole "not a complete protein source, the iron isn't as bioavailable and also you get alot more calories".  However with the right food combining where you consume pumpkin seeds and other foods then you definitely don't need steak to reach your protein or iron intake.
And then there is the calorie comparison by calories…. i.e 100kcal broccoli vs 100kcal steak. Let's start off with 100kcal broccoli is about 300g raw which is 2-3 brocolli stalks, and 100kcal is about 35-37g (and a normal portion is about 250g….. so imagine how little 35g is). If you eat MORE of something then yes, you will get more nutrients. How realistic is it that a person will eat 300g brocolli daily instead of meat….. not so realistic. However adding broccoli to your diet is still great and minimizing/not eating meat is even better – you can still get protein and iron from other sources…. you don't need to eat 300g broccoli or meat to get your nutrients.
I don't see the point in comparing the foods…. i mean why not just write about the different nutrients and minerals in different vegan foods and promote them as they are. You don't need to say they are better than non vegan options or compare them. Broccoli, pumpkin seeds, chia seeds, Spirulina…. they are all amazing foods and ones you should/can have as a part of your daily diet, you don't need to compare  or prove they are better than meat.
If you want to compare vegan food with non vegan food i think it is better to do it like this….. to show how much water is used to produce meat. How much food is fed to the animals which could have been used to feed humans. How much energy is used in the transportation as well as keeping the animals alive. How much land is used to keep the livestock. So much more resources used for animal production as well as meat and dairy businesses/production being one of the major contributors to co2 emissions. It is better to show THESE types of facts to convince people to go vegan or just to remind people they are eating dead animals/animal products.. And then of course with extremely tasty vegan food and mentioning which foods are great sources of different vitamins and minerals is a good idea but comparison is not needed!!
Long post, but i felt i needed to get this off my mind. Feel free to share your thoughts on this!!! 🙂