In today's society it feels like there are two polar opposites when it comes to eating…. those who don't care about what they eat and just eat noodles, fast food and white bread. Whereas on the other side there are those who are extremely aware of what they eat and won't eat anything processed, nothing with gluten or sugar and only so called "wholefoods" or "real foods". (Read about "real food" vs "fake food" here)
According to me, there is a problem with both of these and as a society we need to tackle both of the problems.
I know many think, "why is it a problem if people don't want to eat processed food or eat food that has sugar or gluten… isn't that a good thing." And yes, nutritionally it is a good thing. Because the truth is, no you don't need to eat processed food or eat food with added sugar or food with gluten. However, many also don't eat those because of disordered eating or eating disorders. They use their "clean eating" or "paleo" or "vegan" diet to avoid dealing with the actual problem which is their eating disorder or disordered eating. Unless a person has an allergy towards a certain food or ingredient, no food will hurt them if eaten in moderation. I.e as long as you aren't allergic to an ingredient in the food, you can eat a processed burger or a pizza or some chocolate every once in a while (if you crave it) and still be healthy. The main problem is that many eat those foods all the time.
If we look at society as a whole, the biggest problem is that too many people eat junk food/Processed food too often and they don't eat enough fruit, vegetables, fiber and non processed food. That is the biggest problem in society when it comes to nutrition (as well as too many people live an inactive lifestyle.) So i understand that this is where most attention should be focused, however in this post i want to address those that may be obsessed with eating healthy, who may be controlled by food thoughts and wanting to eat as healthy as possible… because believe it or not, that is also aproblem and those people may not be as healthy as they seem.
In the past i used to have the mindset of wanting to eat as healthy as possible. Everything had to be sugar free, as little carbs as possible, and would choose the "healthy" version over the "unhealthy version". I was never extreme with it, and didn't care about e-numbers or additives, as long as it was sugar free or lower calorie i was fine and didn't care about what else was in the food. Also i didn't cut out dairy or oils or try to be super clean, but i wanted it to be high protein and low sugar.
I still choose sugar free over the sugared version if possible, however i don't really care if i do consume things with sugar and not everything i eat has to be high protein, low carb either.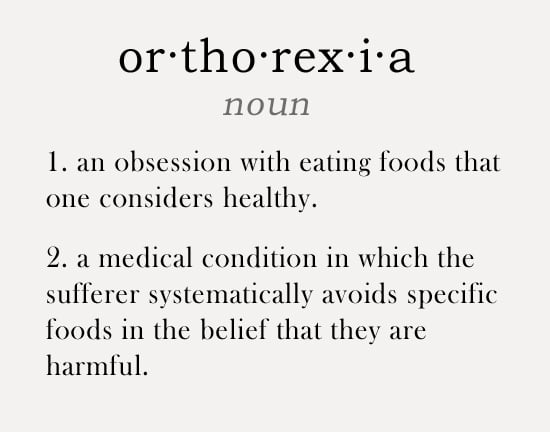 Why is this a problem many may think…. The problem is that often there are controlling and disordered food thoughts that make the person think this way. There is not a balance with food. The person controls their food, won't eat anything that they don't know the ingredients of or something they deem as unhealthy. This can make them isolate themselves, hard to eat with others, hard to socialize when food is around and often people don't eat certain foods because they are scared of them. Maybe they want to control their body image or think they will get sick or "poisoned" by certain foods. In the long term this can affect relationships, lead to very strict and disordered eating, isolation and never really dealing with the actual problem which might be control issues, anxiety, bad body image or insecurites or maybe the person just has an extreme fear of illnesses or getting sick… but often it might require proffesional help to tackle the actual problem. Because food isn't the real problem, instead it is something else. And now a days it is so easy to just say you are eating plant based or paleo or eating "clean" or even IIFYM is a way of controlling food and not having to eat foods you are scared of
This is not me labelling everyone who follows a certain way of eating as disordered or sick, absolutly not. There are people who follow those ways of eating just as a sort of structure and guideline but have a balanced and healthy relationship with food.
The problem is when people are far too strict and don't actually eat food they enjoy or control their food so much that it begins to affect their social life or just life in general. I.e can't travel, can't eat with others, can't have other people make them food, can't go out to eat, brings meal boxes and prepared food with them everywhere etc
With this post i am not saying that you have to eat processed food or sugary food, because as mentioned in the beginning you don't have to. But it can also be good to be honest to yourself… are you not eating them because of fear, whether it is fear of the calories/fat, fear of gaining weight, or fear that they will make you sick… or is it because you generally don't like them? You don't have to like all foods or eat foods just to prove you can.
But the first step is to be honest with yourself. Sometimes the healthiest thing is infact a chocolate bar instead of an apple. (For mental health anyway, not to mention that dark chocolate has antioxidants! But sometimes you just need some milk chocolate and that is ok as well.)
You need to find a balance… maybe your balance is eating cake on your birthday once a year, or eating processed/junk food when you are offered which is maybe once every 2 months. That is ok.
Maybe your balance is eating a treat every week or maybe eating something sweet everyday….
But find YOUR balance and to not have any limits or restrictions. Not be scared of food.
You don't have to like all foods. You don't have to eat all foods. But to live a life being scared of certain foods or being controlled by food or fear of food is not a full life.
Some claim that orthorexia is not a thing or is not an illness/eating disorder. Because how can wanting to eat healthy be a bad thing. But there is a difference between wanting to eat healthy but having balanced and eating so "healthy" that it infact becomes unhealthy because you are controlled by food and do not have balance and are scared of  certain foods.
If healthy eating controls you i.e you get anxiety or panic eating something you think is unhealthy, or if you eat things based on health rather than taste (all of the time. I.e sometimes you just gotta eat your vegetables and nutrient dense meals even if all you want is pizza. i.e maybe make a sweet potato crust pizza topped with vegetables then instead ;)) Or if you punish yourself for eating something you deem as "bad"/"unhealthy" then you should bgein to question your relationship with food.