I'll start off this post by saying that, yes.. i do infact watch cheatday and food challenge videos on YouTube.
Not as often as i used to… mostly because the majority of those types of videos include burgers, bacon and so much meat that i find it hard to watch. But second, i don't want to focus so much on food, so instead i try to watch non food related youtube videos.
I have always found cheat day videos and food challenge videos such as 10 000kcal challenge or 120 nugget challenge etc fascinating to watch. And i don't even know why…. but considering that MukBang videos (i.e when people sit and eat infront of the camera) are extremely popular, there must be something about watching other people eat that humans like.
I have myself wanted to attempt a 10 000kcal challenge in the past – i feel like i could do it. However with a past of an eating disorder both restrictive as well as binging and purging, i don't think i want to force myself to eat past comfort. Not to mention that forcing myself to eat 10 000kcal could easily resemble/bring back memories of binging/uncontrollable binge episodes.
And that brings me to the reason i am writing this post. 
This weekend i was watching a cheat day video and got about 5 minutes into the video before i began to think…. This is so strange and so unhealthy. Eating 8 donuts for breakfast? Followed by pizza, burger, chocolate, ice cream with extra everything etc 
Sure, one day of eating a surplus of calories or having a filled cheat day isn't going to make you unhealthy or make you gain any long lasting weight. But when i see accounts that have full food cheat days it just makes me think… "what are they doing to their body, and that can't be healthy."
I do need to add, that normal people can have days that can be considered "cheat days", where you might start your day with pancakes with extra syrup, cream and chocolate and then maybe have pizza for lunch and burger and fries for dinner… but that might just be a special day and you wouldn't call it a cheat day or force yourself to eat food.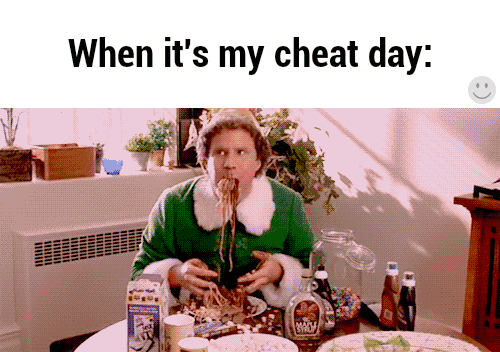 I have mixed thoughts about cheat days….
Because 1) i think it can be inspiring/motivating for people in eating disorder recovery to realise that it is ok to eat all types of food. That you can have a day where you just eat pizza, fries, ice cream etc and you won't necessarily gain weight because of it.
But on the other side, it shows a very unhealthy way of eating and resembles binging alot. Infact, some youtube accounts that do food challenges and cheat days, there could be an underlying eating disorder, or atleast food disorder. Doing frequent full cheat days can't be healthy for your body, even if the person might not gain any lasting weight, all the extreme excess food still affects the cells in their body. Increased blood sugar, increased fatty acids in their blood, maybe increased cholesterol for the day. For a healthy person those levels will just go back to normal within a few days, but for someone who might already have too high levels of fat or insulin then it can be dangerous/more unhealthy.
From a nutrition point of view, i don't think full cheat days are so healthy. Though treatmeals can definitely be healthy both physically and mentally, and helps with balance. I.e being too strict with your food and only eating "so called healthy foods" isn't always healthy. And the body can only really absorb so much nutrients and energy, so if you eat example 8 000kcal, you might only absorbed 6 000 of them, as well as your metabolism speeds up a little and you might feel that you are more energetic/do more activity or small movements which you might not usually do. And this is the bodies way of creating balance and maintaining a healthy weight. However the food you put into your body has an effect, whether it is absorbed or not.
Not to mention that having frequent, huge cheat days might lead you to stretch your stomach size. Of course this doesn't happen overnight or from just one cheat day… but the people who eat crazy volume/huge amounts of food, they can do that because they have stretched their stomach size. People who struggle with binge eating disorder can end up stretching their stomach size in the long term and that leads to 1) it takes alot more food and volume to feel full, 2) normal sized portions don't fill you up, 3) hormones can be off so you don't feel hunger and fullness as a normal person.
And hormones play a huge roll in weight mainteance as well as hunger and fullness feelings/signals. So if people are constantly on restrictive diets and then eating huge cheat meals, it is going to cause some chaos with those hormones and signals. (Not to mention, if someone is very overweight or underweight/very little body fat, that can also cause chaos with your hormones and hunger/fullness feelings). If someone is restricting and then having big cheat meals, it can make it alot harder for your body to find and maintain its healthy set point… or the persons healthy set point could increase over time.
Not only do i think that too frequent FULL cheat days can be negative physically i think they can also be unhealthy mentally.
However, i also think that watching too many food videos can also put far too much focus and attention on food – when there is already such a huge focus on food in todays society. And yes.. i am part of that. I have a food instagram and a food blog and write about nutrition, so i am part of putting focus on food. 
I used to be a fan of cheat day/food challenge videos, but not so much anymore.
Each to their own and everyone can eat what they want and how much they want. I don't have a perfect diet and i have days that i can eat several thousand calories. But i guess i don't like the term "cheat day", and i personally feel that a full cheat day – whether it is once a week or once month, can't be super healthy.
But that is just MY opinion. Everyone is different. I personally believe in the "small treats when you need them" type of lifestyle. Whereas for others they prefer to be super "strict" with their diet 6 days a week and then have a treatmeal once a week… and that's their choice and what works for them.
I know some people have written to me saying that they can't eat just one row of chocolate, they eat the whole bar and that's why they can't have small treats several times a week. And i understand, i have been there…. i have gone through binging and purging and where i haven't been able to stop myself from eating. (I will share a post with advice and links about this topic).
So many people have messed up and unhealthy relationship with food and i don't know if cheatday videos are making that better. Though i can see the positives of them not just for the person doing them, but also the person watching. But i also think that they can be potentially triggering and harming for some as well as the person doing the challenge.
Also one of the things about cheatday videos/food challenges, is that some people purposely restrict themselves or just eat things like broccoli and chicken so that they can have the crazy cheat days…. and that creates an unhealthy balance and relationship with food. As well as gives off the wrong message… even if the video is just for "entertainment purposes".
Anyway, that is just my thoughts about this….. and i have more thoughts to share, but i thought i would keep the post rather short.
(Also there is a difference between refeed days/treatmeals for people who are on strict diets for example competitions/weight loss. Those types of days where they increase their energy intake or eat a treat can be beneficial both physically and mentally while on a diet.)
Also, i am thinking i might want to research more into this and as i will be studying health psychology *hopefully* in 2019, i think researching more into things like cheat day videos and how they might effect/trigger eating disorders or focus on food could be very interesting.
And some video tips on this subject:
Stephani Buttermore talks about what happens after a 10 000kcal challenge (she talks about weight gain, bloating, bodyfat and sugar). VIDEO LINK
Also watch her 10 000kcal aftermath video which is very interesting: VIDEO LINK
Her boyfriend Jeff Nippard has even done a very good "science explained" 10 000kcal challenge where he talks about fat gain, TDEE etc VIDEO LINK
These are just my personal thoughts and opinions, and i would love to know what YOU think about these challenges or types of videos.