It's July, and i have noticed on social media there is a "campaign" talk about plastic free July.
I think it is great that we are bringing awareness about plastic and the need for everyone to decrease their use/consumption/buying of plastic. To use alternatives and to demand that products are packaged in other materials than plastic.
You can read more about plastic pollution crisis, HERE. I.e we all need to do something about this…. and if we as consumers show that we want products with less plastic and make active choices. For the sake of the climate and planet, but also for the animals as many animals and marine life are actually dying due to plastic pollution… but even our health is impacted due to the microplastics and BPA.
*This post contains affiliate links*
If i am honest, i am not someone who believes in 100% plastic free or zero waste. Even if i like the idea of it…. I just don't think it is practical for anyone. Unfortunatly, our society uses plastic in SO MANY items… just like with being vegan, there seems to be animal products in almost everything. However, just because there is so much plastic doesn't mean that it isn't possible to make a change/difference and decrease your use of plastic.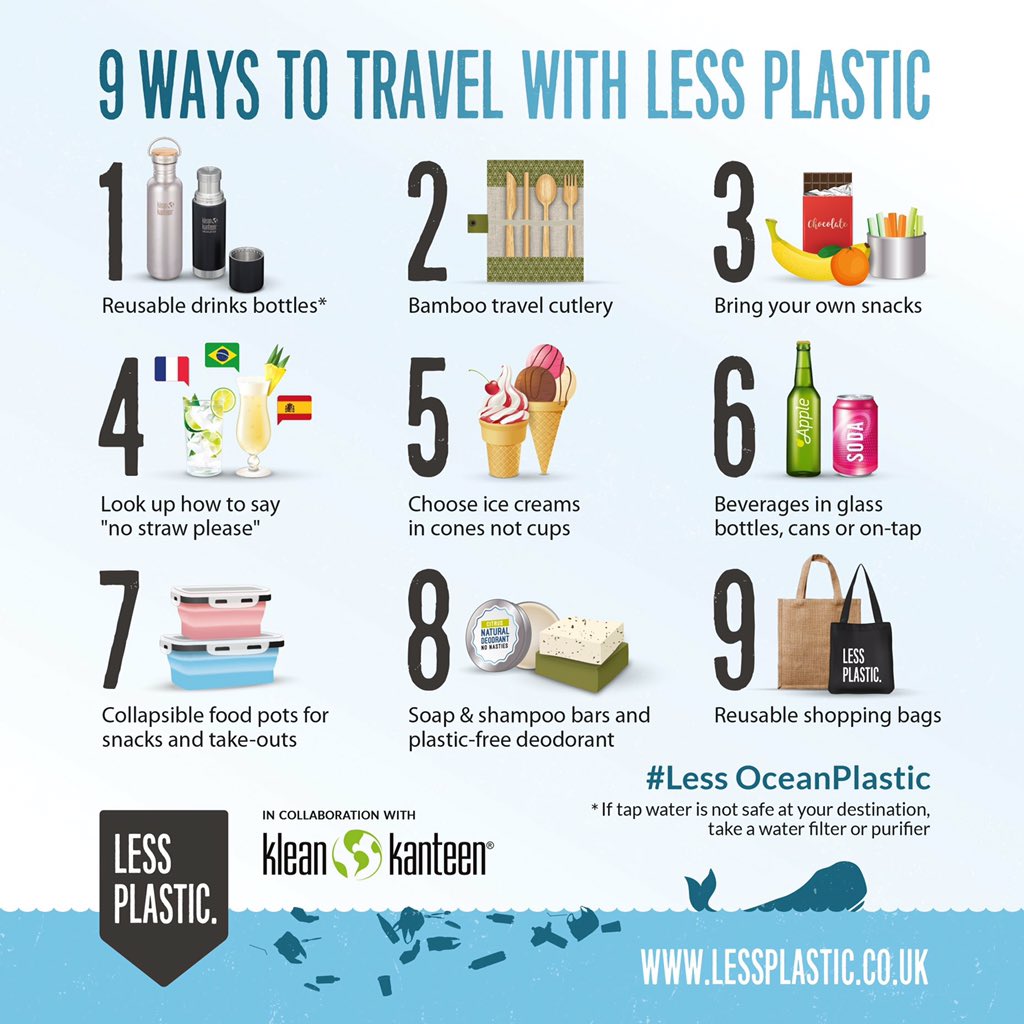 It just means some extra planning. You may also need to invest in things such as glass lunch boxes, Metal straws, reusable fresh produce bags, on the go coffee cups/thermos, glass jars,reusable utensils and the list goes on.
You will also need to carry around an extra bag with you incase you need to buy something when you are out and don't want to purchase a plastic bag. Of course, this is one of the simplest changes you can make… just buy a cheap cotton bag which you can always have in your bigger school/work/gym bag!
Bring your thermos/on the go coffee cup with you so that you don't buy coffee out… but if you do have to buy coffee out, skip the plastic lid!
I think it is great with the initiativ to decrease plastic use… how it is not always practical or possible for everyone.  There is plastic everywhere. And i am pretty sure i use and purchase items which contains plastic which i had no idea about.
But also …. going plastic free means you may need to invest in certain products/items before you can go fully plastic free. Not to mention, it may mean having to cut out ALOT OF different foods because they contain plastic. If i am honest… almost half the food i buy comes in some form of plastic packaging. When going plastic free you will most likely have to shop at stores which sell products that have very little or no plastic packaging… where you bring your own jars or use brown reusable bags to pack the fresh produce. However… alot of frozen food is then no longer an option. But frozen food (meaning frozen vegetables and fruit, not pizza and fries) which are often cheaper and last longer, arenät an option. But many people don't actually eat up the fresh produce they buy and have to throw it away, meaning that it isn't really better.
However… what you could do if you can afford it (and have the space in your freezer), is to buy big 1kg frozen vegetables instead of the small 200g/500g bags… because then you atleast minimize plastic in that way. 
4 examples of plastic:

1 The lid and little inside "lid" in plantbased milks. (Note, cut the little "capsule/lid" when you thro them away so that wildlife don't get caught in them/eat them)

2: Alot of the food i buy does have plastic… which i do want to become more aware of and limit – as i do have the possibility to do it at times.

3: Everything in that pesto came in a plastic pacakge… apart from the garlic

4: Eevn the glassfood boxes i bought came with plastic.
Also, you can't forget that if someone is living on minimum wage the most important thing for them is to find some form of cheap food to be able to eat…. not whether it is plastic free, vegan or nutritious.
Going plastic free is a privelage in a sense… I live in Sweden and have the possibility as well as somewhat economical possibility to make choices. I can buy food in bulk and without plastic when possible. I can bring my own bag to the grocery store and invest in glasslunchboxes and metal staws. I can bring my own freshproduce bags and skip the plastic bag that is usually used when buying fruit and vegetables in bulk.
I can choose between buying lentils in a cardboard package or plastic package. I can choose to not buy a food because it has lots of plastic packaging – because i know i can buy other food. I can take the time to walk/travel to another store just because they have more fresh produce which is loose/buy in bulk. Some months i can spend the extra money on making more plastic free choices. It is a privilige which not everyone has.
However… i can't avoid all plastic. It would not be possible for me to buy all my food plastic free. Not to mention, i take medication which i need daily that comes in/is packaged in plastic… there is no plastic free alternative.
I can of course make active choices when possible.
But what about disabled people… there are certain foods which may have extra packaging because it is easier for someone who is disabled.
I think when possible we should all try to limit plastic… example, does the product with a cardboard/nonplastic package cost 1dollar more than the option with plastic… then it is worth tat 1 dollar… according to me anyway.
Can you skip the small portion packages of food and instead buy in bulk? Can you skip the Nescafe coffee capsules and instead use a coffee press/coffee beans? (in all honesty, i think these coffee capsules should be banned). Can you buy fresh produce in bulk using a paper bag or your own fresh produce bag? Can you buy the frozen berries in a cardboard pacakge instead of plastic pacakge? Can you skip the plastic lid when ordering coffee on the go?
Just because we can't do something perfectly or can't do it all… doesn't mean we can't try. Can't go completely vegan? Well you can still eat as vegetarian as possible and not buy products with animals products (such as fur, leather, wool), as well as buying cruelty free. Can't go completely plastic free? Well you can still decrease use of plastic when possible. Can't go zero waste/minimalist? Well you can still try to limit waste and clutter when possible. It doesn't have to be all or nothing, 0 or 100. We can just do our best and what is possible.
I also think it is important for us all to ask ourselves… do we not make these changes because we don't want to or because we can't? There is a difference. Many people don't even try to limit plastic or try to eat more vegetarian because they don't want to… even if they can. Whereas there are many who are in situations where they actually can't make those choices but might want to.
So if you are in a situation where you actually can make choices and changes that are better for the climate, planet, animals… then i think you should. It doesn't have to make a huge impact in your life, but may make a huge impact for the planet and climate if everyone made those small changes.
You can read more about plastic and plastic pollution in the links below:
The worlds plastic pollution criss explained  *highly recommend you read*
100 steps to a plastic free life